Our
Processes
We understand today's financial environment. We understand that individuals face unique challenges. And we can help take the mystery out of preparing for today and tomorrow.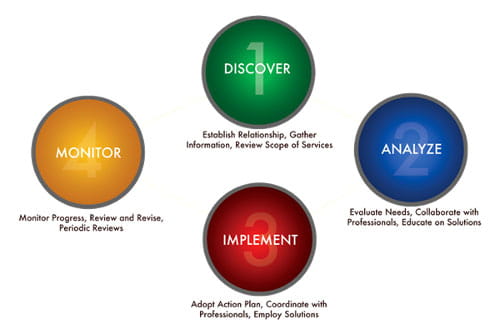 Discover – We want to understand your concerns. This means getting to know you and your family by gathering information about your current circumstances, future goals, aspirations and worries. Whether your plan is straightforward or complex, we will help you identify your financial goals.
Analyze – We will discuss your needs and wants concerning your financial goals. We will take into account your investment horizon and assess the types and levels of risk you can afford and be comfortable with. When appropriate, we will collaborate with your CPA, attorney and other professionals to help ensure all aspects of your investment planning are addressed.
Implement – Your plan should not be an off-the-rack strategy. We have access to in-depth evaluations of hundreds of potential investments and will offer objective, unbiased recommendations based on what is best for you.
Monitor – Investment planning is an ongoing process that requires periodic review. If it becomes necessary to adjust components of your plan in light of changing circumstances and evolving objectives, we'll make decisions and adjustments together. We will help keep you apprised of relevant market developments and help you understand their implications. This helps ensure your financial decisions are based on facts and careful research, rather than emotions and market volatility.